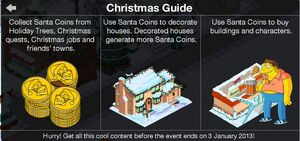 The Christmas Event was the second Major event to take place in The Simpsons: Tapped Out. It was initially released to players on December 5, 2012. It included limited time new content and added the ability to collect Santa coins to purchase rewards. The event ended on January 10, 2013 - but the snow that was introduced during the event stayed but disappeared upon the release of the Valentine's Day Event on January 30, 2013.
Some of the new content included characters in reference to The Simpsons' Christmas themed episodes, such as Funzos. With the new currency of Santa Coins, players could purchase new Christmas decorated façades for houses and other buildings. New decorated building façades were priced at 50 Santa Coins each, and when a building is using one of them, it would produce 5 Santa Coins every 24 hours. Some of the other new features and quests added in the event can be found below.
New Content
Edit
Below is a list of all the items available with the Christmas Event released on December 5, 2012. Please note that after the event, some, or even all, of the items listed may no longer be available.
Buildings
Edit
Decorations
Edit
| Name | Cost |
| --- | --- |
| Reindeer | 20 |
Characters
Edit
A list of all of the main quests can be found below:
Quest
Task
Reward
Christmas
Place the Holiday Tree
30

Christmas Hours

Make Apu do a 168 Hour Shift

10
Let's Skidoodle
Make Ned Take the Boys Snowmobiling 
30
Skilightful!
Make Homer Pretend to Ski
Make Lisa Pretend to Ski 
30
Snow Fun

Make Homer Make a Snowman
Make Lisa Make Snow Angels

10
What's a Myp-Od?

Have 150 Santa Coins
Build the Mapple Store

10
Mapple in Motion
Make Ned Browse the Mapple Store
Make Homer Browse the Mapple Store
Make Lisa Browse the Mapple Store
10
Pin Pals

Have 200 Santa Coins
Build Barney's Bowlarama

10

Unlock: Barney

Ho Ho Ho! (optional quest)

Build Santa's Village 

10

Unlock: Santa Homer

Wow! A Job!

Make Barney Be a Pin Monkey
Make Homer Go Bowling

10
Blitzed and Confused
Make Barney Go on a Binge
10
Gimme Gimme Gimme a Drink after Midnight
Make Barney Sleep in the Gutter
10
The Worst Day Of My Life, again!
Make Barney Sober Up
10
Moe Beer, Moe Problems
Make Barney Drink at Moe's
10
You Can Try-N-Save, But You Won't

Have 450 Santa Coins
Build Try-N-Save

10
Funzo Mania
Get any Funzo
10
Santa's Little Helper

Have 1500 Santa Coins
Get Santa's Little Helper

10
Unlock: Santa's Little Helper