This is a good article. Click here for more information.
The Valentine's Day 2013 Event was the third major event to be released for The Simpsons: Tapped Out. It  was released to all players on January 30, 2013, the same month in which the first Christmas Event ended. There were new buildings, characters, and even a new level added during the event on February 14, 2013, after its accidental release to some players with the event's initial release. A new currency was added which was similar to the treats and santa coins, called hearts. Hearts could be used to purchase limited time buildings and decorations until February 28, 2013, when the event ended. On February 21, 2013, the Heart Press became available which gave players the option to pay twenty hearts for an chance to earn up to 1000 Money.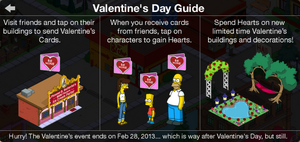 Another new social feature became available for players during the event. They could visit their friends' Springfields and leave Valentine's Cards by tapping on their buildings. When they logged into their game, they would be able to tap the character who is unlocked with the building and collect a Heart. Only buildings which unlocked characters upon completion could have Valentine's Cards delivered there, as when the friend logs in, the card appeared on characters which the building unlocks, and not the chosen building.
With only twenty days between the end of the Christmas 2012 Event and the start of the Valentine's Day Event, it was one of the shortest gaps in-between two major updates. At the end of the Christmas Event, however, the snow which covered the player's Springfield at the start of it did not disappear, and instead vanished at the release of the Valentine's Day Event. In the gap between the two events, there was much speculation as to when the snow would disappear.
New content
Edit
Below is a list of all the new content included in the original Valentine's Day Event on January 30, 2013. Please note that after the event, some of the items listed are no longer available:
Buildings
Edit
Decorations
Edit
Characters
Edit
Miscellaneous Items
Edit